The History of our Lyndhurst Hotel
LYNDHURST HOTEL, ROADHOUSE, MOTEL, CARAVAN PARK & POST OFFICE.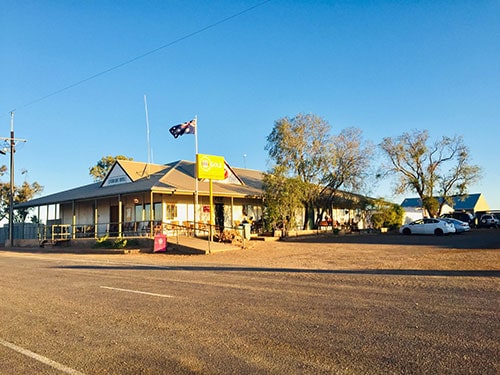 The outback of South Australia. Lyndhurst is situated on the "Explorers Way", 596 klms north of Adelaide through Pt. Augusta. It is the start of the Strzelecki Track to the north-east to the Moomba gas and oil fields and then on to Innamincka and Burke & Wills Dig Tree and a lot of history is there. This is a very busy trucking route. The Oodnadatta Track heads north from Lyndhurst, to Marree and then Oodnadatta. Mt. Lyndhurst was named by Samuel Perry in 1858 to honour Lord Lyndhurst (John Singleton Copley), who was Lord High Chancellor of England about 1830. The "Mount Lyndhurst Run" was established by W. Hamilton in 1866, two years prior to the purchase by Thomas Elder who built up a huge land holding in this part of South Australia.

A Post Office opened in 1879 and the town was proclaimed in February 1896. The central Australian railway came through and it became an important freight centre for the camel service to many stations along the Strzelecki Track. The last train on this route of "The Ghan" was in 1980, when the track was moved further west.
© 2020 SunsetCoders/PFICS
Created by Sunsetcoders
Hosted by Phil'll Fix IT Computer Services